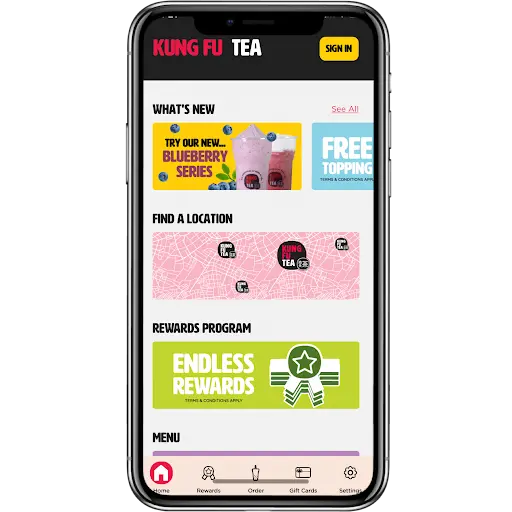 NEW YORK CITY (AUGUST 15, 2022) — Kung Fu Tea announced today the launch of their new mobile app created in conjunction with Blue Label Labs, to make ordering bubble tea easier than ever with a sleek, updated user interface. Prioritizing a frictionless user experience, Kung Fu Tea's new app allows users to more easily navigate interactive menus and seamlessly place their order at their favorite Kung Fu Tea locations.
Integrated Menu & Drink Customization
With the redesigned menu, app users can now fully customize their favorite drinks with the ability to pick between various delicious toppings, drink types, and – for those looking for the perfect boba - even adjust the level of sugar and ice in their beverages.
"We have a very unique menu style and we felt it was time for our customers to be able to order through our app the same way they're able to order in our physical locations," said Co-Founder Michael Wen. In addition to modern aesthetic changes, the new Kung Fu Tea app features increased speed to make the bubble tea ordering process easier for both customers and franchisees.
Order Ahead & Loyalty Program
Ordering ahead is now made quicker than ever, with app users having the ability to skip the line in-store by choosing between pick up or at-home delivery. In addition, all app users are automatically enrolled in Kung Fu Tea's loyalty program, where they can earn free rewards and perks on every purchase.
Product Recommendations & Deals
Through the redesigned app, customers will be able to better receive the latest news and promotions from America's Favorite Bubble Tea. With the new user interface, Kung Fu Tea will now be able to serve app users customized drink recommendations and promotions based on their unique drink preferences and boba habits.
"We plan to do much more with our mobile app in the years to come and this is the first step as we continue our own digital transformation. With the decision to launch our own custom mobile app, we'll be able to better tell our story and provide our loyal customers the seamless kind of mobile experience they crave." said Wen.
About Kung Fu Tea
Founded in Queens, NY on April 30, 2010, Kung Fu Tea is a made-to-order beverage chain with over 300 locations across the U.S. and several in Canada, Cambodia, and Australia. At Kung Fu Tea, each beverage is freshly handcrafted with authentic, high-quality ingredients. The brand's founders, baristas, and customers are Kung Fu Masters—passionate, dedicated, and fearless in changing the face of the beverage industry. In 2018, Kung Fu Tea founded the world's first National Bubble Tea Day, taking a huge step toward spreading the bubble tea culture around the world. To learn more, please visit www.kungfutea.com or follow Kung Fu Tea's official social channels: Facebook , Instagram and Twitter .