Brand Ambassador Spotlight: Jeremy
Kung Fu Tea: Any new celebrity gossip?
Jeremy: There is always something happening in Hollywood! The one I am most excited about is KANYE WEST releasing new music within the next few months. I know he is all over the headlines for his opinions and rants, but the guy delivers some of the most soulful & entertaining music and we should not forget he is one of the most influential artists of our time.
Kung Fu Tea: What do you love most about Pop Culture?
J: I love that Pop Culture is always the pulse of a generation and explains so much of what the world was feeling at a particular time. From the most impactful and award-winning films to the fashion of an era, we get to take a snapshot of it by just looking at the POP CULTURE of that time period. I love my career because I am lucky enough to have conversations with the people who shape and shift pop culture everyday.
Kung Fu Tea: Favorite song?
J: Favorite song.... ohhhhh ..... that is tough..... EARTH WIND & FIRE "SEPTEMBER" That song will change your life! If you ever need to smile or change the mood in a room just play this song! You might not know the group or title of song, but at every wedding, cookout, sweet sixteen, bar mitzvah, or holiday party trust me you have danced to this!
Kung Fu Tea: What have you been hosting lately?
J: Lately I have had a blast working with a new company www.humans.net interviewing creatives and entrepreneurs about the tools they have used to become successful. Humans is a one stop where everyone can find help and earn at the same time! It's a revolutionary concept and I am proud to be working with them. I have a blast each day as a reporter for United News International. UNI has generated 50,000+ one-minute video news reports that have billions of views and reach hundreds of millions of people worldwide. We reach millions on Facebook each day telling honest news from anchors from all over the world. It is so interesting to hear about what is going on in remote areas on the planet with quick video reports from a trusted source. United News International is the future of how we will get our news and I can't wait to show you the new programs we are working on. I also am in the middle of shooting a few pilot TV shows at the moment, soooooooo stay tuned!
Kung Fu Tea: What are your favorite pieces from Kung Fu Tea's merchandise collections?
J: I love the Kung Fu Tea #IAmKindOfABigDeal black and white hoodie, and the Empty Cup, Code Red!
Kung Fu Tea: Show us your relationship with Kung Fu Tea!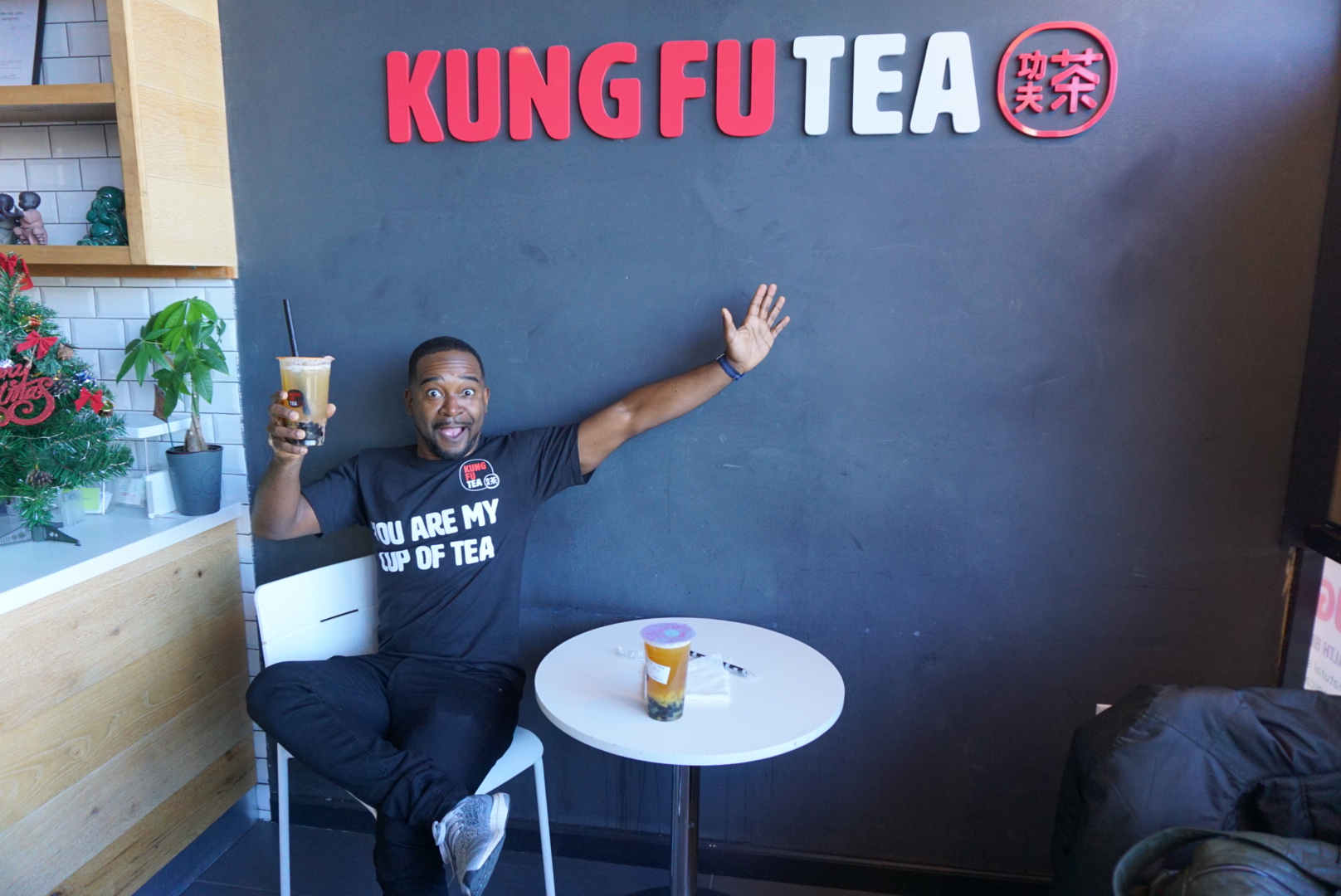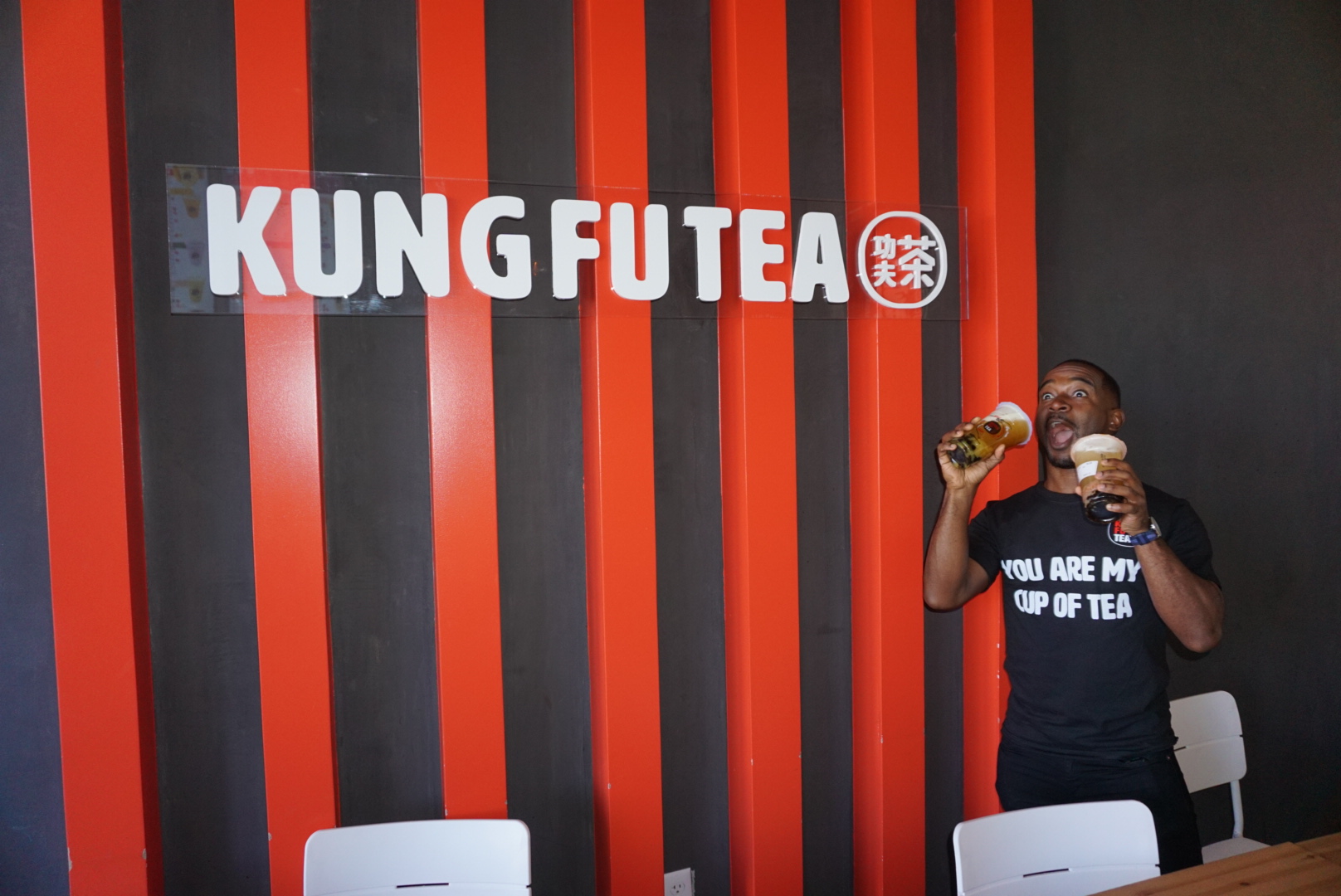 Kung Fu Tea: When did you first discover bubble tea? What's your usual order?
J: My life opened up a few years ago when a friend invited me to try milk bubble tea in the East Village at a some candy shop. I had it and was not super impressed. Then I walked into the Kung Fu Tea on St. Marks in the East Village of NYC and decided to give it another shot with the Mango bubble tea with ice. It changed my life because of how the flavor of the tea was so refreshing and the bubbles (boba) were so chewy that I realized this is amazing! With Kung Fu Tea, it's as if it was made for a true tea lover. I am not kidding when I said it changed my life because when I go out to dinner there is nothing better than an iced Kung Fu Tea bubble tea for dessert. I am serious you can check my Instagram or better yet ask my girlfriend! She will tell you that when we are leaving an event, traveling, or just meeting friends I will find a way to get us some bubble tea! I told you earlier in the interview that a great song like"SEPTEMBER" can change a mood, so can BUBBLE TEA! Try it next time you are going on a trip or hanging with a group, watch how everyone becomes more fun!
My usual order has changed from Mango Bubble Tea with extra ice to Lychee Bubble Tea with extra Ice and when I am feeling frisky maybe I live on the wild side and get a passion fruit bubble tea with extra ice!
Kung Fu Tea: Twizzlers or tapioca? Monopoly or Cards Against Humanity? Mango or taro slush?
J: Twizzlers are unbeatable. Cards Against Humanity will make you laugh and at any moment offend someone in your group so it is more entertaining. MANGO all day!
Kung Fu Tea: If you could only use one hashtag forever, what would it be?
J: #KeepItPositive
Kung Fu Tea: What message/advice do you want to share with all Kung Fu Masters out there?
J: I have no advice for the Kung Fu Tea Masters. They know exactly what they are doing and all I could ask is for them to make more fun fruity flavors for the world to enjoy!